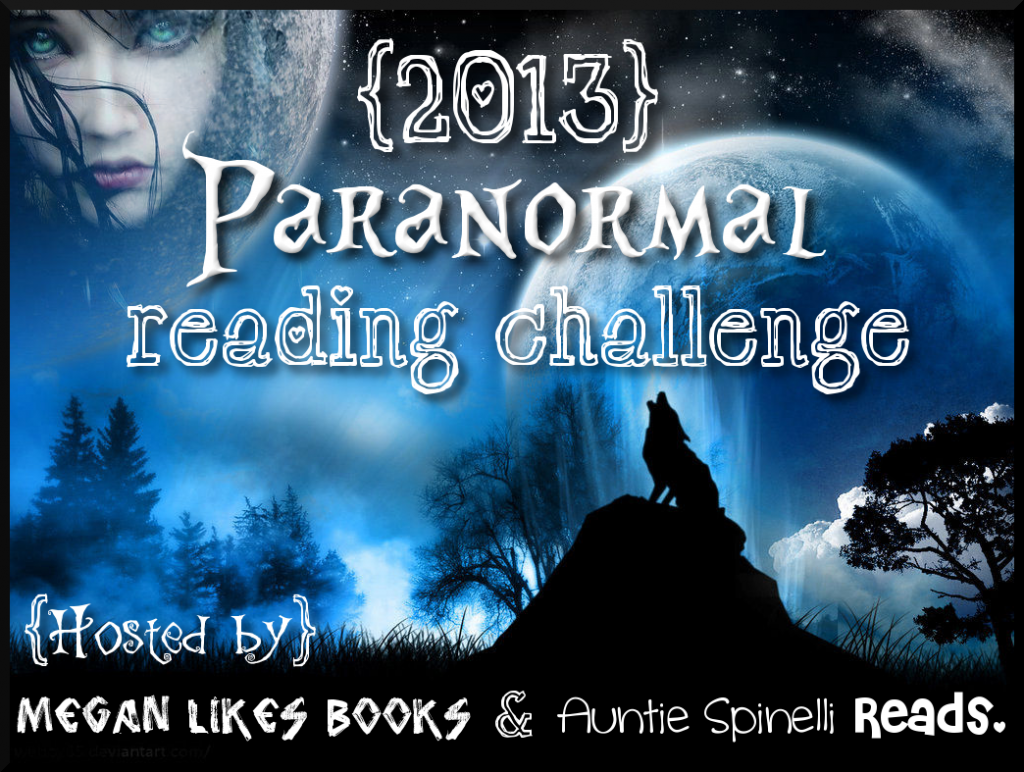 Hello, everyone! It's a brand new year, and I'll be posting more about that soon, but for now, I'm going to post another reading challenge for 2013! Wish me luck!
Info:


The challenge runs from January 1 to December 31

The challenge consists of 12 different paranormal creatures. You must read one from each category.

Because I'm such an overachiever (just kidding), I'm going to be reading more than one for each of the 12, sometimes up to 6 books.
If you want to participate in this challenge, click here.
Books I Plan to Read:
Vampires:
Vampire Academy (Vampire Academy #1) by Richelle Mead
Marked (House of Night #1) by P.C. Cast
Vampire Kisses (Vampire Kisses #1) by Ellen Schreiber
Werewolves/Shifters:
Magic Bites (Kate Daniels #1) by Ilona Andrews
Shiver (The Wolves of Mercy Falls #1) by Maggie Stiefvater
Raised by Wolves (Raised by Wolves #1) by Jennifer Lynn Barnes
Fey:
The Iron King (The Iron Fey #1) by Julie Kagawa
Lament: The Faerie Queen's Deception (Books of Faerie #1) by Maggie Stiefvater
Born at Midnight (Shadow Falls #1) by C.C. Hunter
Angels:
Hush, Hush (Hush, Hush #1) by Becca Fitzpatrick
Fallen (Fallen #1) by Lauren Kate
Unearthly (Unearthly #1) by Cynthia Hand
Mermaids:
Of Poseidon (Of Poseidon #1) by Anna Banks
Siren (Siren #1) by Tricia Rayburn
Lies Beneath (Lies Beneath #1) by Anne Greenwood Brown
Dragons:
Eragon (The Inheritance Cycle #1) by Christopher Paolini
Eldest (The Inheritance Cycle #2) by Christopher Paolini
Firelight (Firelight #1) by Sophie Jordan
Zombies:
The Forest of Hands and Teeth (The Forest of Hands and Teeth #1) by Carrie Ryan
The First Days (As the World Dies #1) by Rhiannon Frater
The Enemy by Charlie Higson
Demons:
Witches:
A Discovery of Witches (All Souls Trilogy #1) by Deborah Harkness
Hex Hall (Hex Hall #1) by Rachel Hawkins
The Summoning (Darkest Powers #1) by Kelley Armstrong
Ghosts:
The Woman in White by Wilkie Collins
Anna Dressed in Blood (Anna #1) by Kendra Blake
A Certain Slant of Light (Light #1) by Laura Whitecomb
Aliens:
The Host by Stephanie Meyer
The Charmer (Darklands #1) by Autumn Dawn
Transfer Student (Starjump #1) by Laura A.H. Elliott
Other (Unicorns):
Pegasus by Robin McKinley
Rampant (Killer Unicorns #1) by Diana Peterfreund
Drink, Slay, Love by Sarah Beth Durst

Books Read:
1.
2.
3.
4.
5.
6.
7.
8.
9.
10.
11.
12.
13.
14.
15.
16.
17.
18.
19.
20.
21.
22.
23.
24.
25.
26.
27.
28.
29.
30.
31.
32.
33.
34.
35.
36.
37.
38.
39.
40.